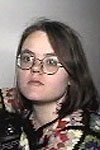 Maria Nicholas
ORIGIN: SOMEWHERE, NE CURRENT: ATLANTA, GA
Maria brought her musicianship to the band and was to date the most trained musician to play in 99. The only conflict was due to her schedule. She would often learn and practice her parts own her own and not with the rest of the band. The amount of times that we all practiced together was limited, so it was always a surprise to have her play during the live shows as Exit and Darren didn't know what to expect and weren't use to hear her play along.

She performed for about two or three shows in 1993 and saved the day for the first show of the 1995 tour. Another contribution that she provided were the show flyers that she created. Her favorite claim in 99 history is when she tried to help put out a wax candle that had caught on fire by pouring water in to the coffee can during the last Old City Hall show. She didn't realize what was burning in the can, but with the flames growing larger and larger in this all wooden bar, she acted as the nights hero.

As 99 decided to begin touring, Maria felt it best to relieve her position to someone that would be more flexible with travelling and taking time away from work. After spending a few years in Syracuse, she moved to Atlanta, GA where she currently is working and enjoying the hot temperatures.